Our Premiere Teams Use Electrostatic
Technology for Superior Disinfecting Results
Benefit #1: Touchless Application
Apply disinfectants without needing to touch or wipe surfaces. This provides a fast and effective application method, while using less solution.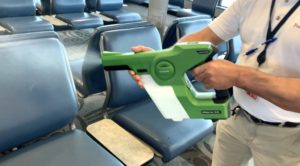 Benefit #2: Reduces Cross Contamination
A spray-and-wipe technique can move bacteria from one surface to another. Cross contamination is considerably reduced with touchless electrostatic sprayer application.
Benefit #3: Liquid Adhesion Provides Comprehensive Coverage
As fully-charged droplets hit the surface, they create an even spread. This allows the solution to cover hidden and shadowed areas, while covering a larger area in a smaller amount of time. Specific dwell times for solutions can be met by adjusting the nozzle to change the spray density.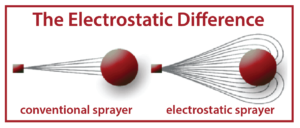 Benefit #4: Cost Effective And Easy To Implement
Electrostatic sprayers are cost effective and easy to implement due to their versatility and portability. Adding a sprayer to your existing program instantly increases your disinfectant coverage. Can be used with your chemical choice.